Minister for Agriculture and Fisheries working in the Municipality of Liquiçá
Fri. 07 of April of 2017, 10:54h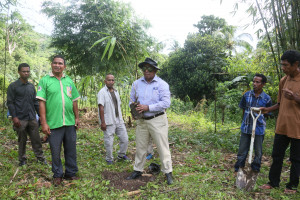 The Minister of State, Coordinator of Economic Affairs and Minister of Agriculture and Fisheries, Estanislau Aleixo da Silva, visited the Municipality of Liquiçá on April 5th, for a series of activities.
In the village of Mota Ulun, in the Administrative Post of Bazartete, he took part in the planting of the Bertar variety of bamboo (one of the five types existing in the country). The Minister stressed that its plantation can help the economy of small and medium-sized enterprises or groups, and is one of the factors for economic diversification in the country. Currently, the production of bamboo covers the national territory, with plantations in all 12 municipalities and the Special Autonomous Region of Oe-cussi Ambeno. The product has the potential not only for the domestic and international markets, particularly through arts and crafts for the development of tourism, but also for soil protection against erosion.
Later, the Minister Estanislau da Silva inaugurated the Processing Centre of the Bamboo Institute, in the village of Hatunau. In order to monitor the activities of the institute and to better understand the items made with this plant, a website was also launched.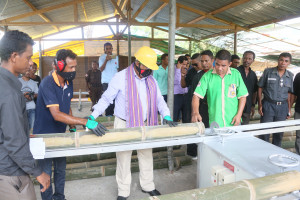 Finally, the Minister took part in the first of three debate days with Commission D of the National Parliament regarding the approval, in the specialty, of the Private Investment Law, in Lauhata. This law aims to create a transparent, modern and competitive legal framework, which promotes both private investment and foreign direct investment. The meeting ends on April 7th.