Legislative Reform Commission proceeds with the informal Justice system diagnostic
Tue. 07 of March of 2017, 15:32h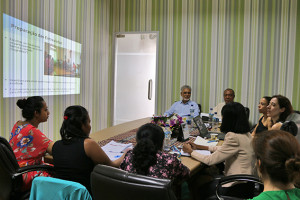 On March 5th, the research team of the Legislative Reform and Justice Sector Commission (LRC), the Center for Social Studies of the University of Coimbra (CES), and the President of the LRC, Jorge Graça, met together to draw up planned actions for the second phase of the informal justice system diagnostic.
They worked together on a timetable for interviews and research outcomes and organized work teams and the allocation of resources. They also started to analyze the structure of the final report of this work.
Currently, the first diagnostic phase of the extrajudicial means of settling disputes is being continued, through consultations with justice sector institutions and local, community and traditional administrative entities.
The presentation and discussion of the diagnostic results and of the final report are scheduled for next July. For this purpose, an open public conference will be held and a significant participation is expected.
On March 6th and 7th, the team of researchers participated in a training course on interviewing techniques with particular attention being given to the topics to be addressed in the field.
Fieldwork began on March 8th in the municipality of Baucau, followed by Viqueque and Lospalos.
It is expected that the diagnostic will contribute significantly to the development of a policy, agenda, and programme for legislative and justice sector reform in this area.