Timor-Leste and Australia in productive meetings on maritime borders
Tue. 24 of January of 2017, 08:07h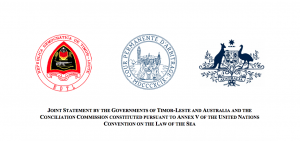 Following the ongoing process of compulsory conciliation between the two countries, a joint statement by the Governments of Timor-Leste and Australia and the Conciliation Commission was published today, the 24th January, regarding the conduct of meetings held between the 16th and 20th of January in Singapore.
In these meetings, the Commission met with Timor-Leste and Australia " to explore their negotiating positions on where the maritime boundary in the Timor Sea should be set with a view to identifying possible areas of agreement for discussion in future meetings." In the end, the representatives of the two countries agreed that the meetings were productive and reaffirmed their commitment "to work in good faith towards an agreement on maritime boundaries by the end of the conciliation process in September 2017."
On the 10th of January, the Timorese Government notified the Australian Government of its wishes to terminate the Treaty on Certain Maritime Arrangements in the Timor Sea. [CMATS] The Joint Statement noted that the CMATS would cease to have effect on the 10th of April 2017.
To read the full statement, click here.