Timor-Leste notifies Australia to end the 2006 Treaty
Tue. 10 of January of 2017, 15:33h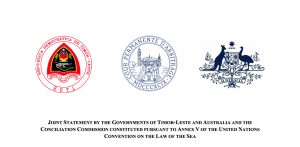 The Government of Timor-Leste has notified Australia on January 10, 2017 of its intention to terminate the Treaty on Certain Maritime Arrangements in the Timor Sea, signed in 2006. This notification will cease in three months (to read the full statement, click here).
In a joint statement between Timor-Leste, Australia and the Conciliation Commission, it is recognized " the importance of providing stability and certainty for petroleum companies with interests in the Timor Sea and of continuing to provide a stable framework for petroleum operations and the development of resources in the Timor Sea."
At the request of Timor-Leste and under the United Nations Convention on the Law of the Sea (UNDCP), the Commission was established in April last year and made up of a panel of five independent experts. The first procedural meeting of the Commission took place in late July.
Despite Australia's initial contestation, the Permanent Court of Arbitration (CPA) issued a press release in September 2016, on behalf of the Conciliation Commission, announcing the Commission's decision to continue the compulsory conciliation procedure regarding maritime boundaries in the Timor Sea.