Prime Minister monitors coffee production in Ermera
Fri. 12 of August of 2016, 09:47h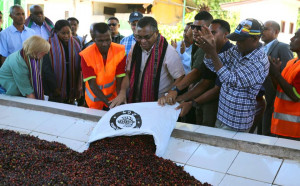 The Prime Minister, Rui Maria de Araújo, paid a visit to the Municipality of Ermera, on August 11th, 2016. The objective was to observe directly the planting, processing and diversification of coffee, as well as the nurseries and the drying of coffee cherries, in the Training and Agricultural Extension Centre Pe. Domingos Sequeira, in Railaco, in the Municipality of Ermera.
In this village there are ten varieties of fruits and plants, in particular mango, longan, pink jambu, breadfruit, soursop, rambutan, teak, pepper and vanilla. During the same trip, the Prime Minister visited a nursery with plants of cocoa, Robusta coffee, Arabica coffee, casuarina and clove.
The Head of the Government stated that, today, coffee is already the second largest export product of Timor-Leste, the first being crude oil and natural gas. It is necessary to begin analysing the certification process, especially for organic coffee, to enter in this segment of the international market.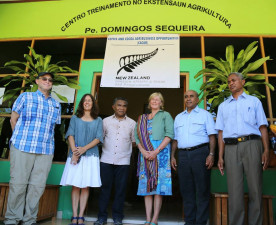 "Throughout the world, people recognize the quality and brand of Timorese coffee. In the Starbucks network and in America, the coffee sellers praising our organic coffee. This means that there is potential for the development of Timor's coffee, because it is special. The Government should therefore create conditions and initiatives so that the Cooperativa Café Timor (CCT) may increase the results and benefits for our coffee farmers ", stated the Prime Minister.
In Gleno, the Head of Government visited the Café Timor Clinic and the East Timor Coffee Institute (ETCI), to see the hybrid coffee plantations.
Finally, the Prime Minister went to see the processing of freshly harvested coffee, in the Estado Suco. The Chief of the Executive and his delegation took part in the coffee harvest and watched CCT's work, from harvesting to processing on the machine donated by India, ending with the washing process. This coffee from CCT must then be taken to Tibar, for 5 or 6 days of drying, and finally transported to CCT, in Akadiru-Hun in Dili, where it will be prepared for export.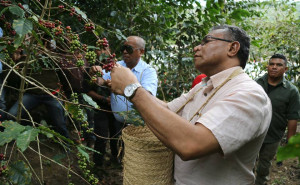 In this visit, the Prime Minister was accompanied by the Minister of State Coordinator for Economic Affairs and Minister of Agriculture and Fisheries, Estanislau da Silva, the Deputy of the Ambassador of the United States of America, the Ambassador of New Zealand and representatives of Washington's NCBA [National Coorperative Business Association – North American entrepreneurial association], in addition to CCT's directors and staff.