Timorese athletes in the Rio 2016 Olympic Games
Thu. 04 of August of 2016, 17:26h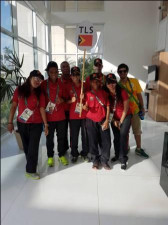 Timor-Leste will take three athletes to the Rio 2016 Olympic Games, which start August 5th. Augusto Ramos Soares and Nélia Martins will compete in athletics – 1500 meters – and Francelina Marques Cabral (Anche) will participate in the Olympic Games, in XCO ("cross-country cycling").
Augusto Ramos Soares represented Timor-Leste in the marathon of the Beijing 2008 and London 2012 Olympic Games. Nélia Martins participated in the Youth Summer Olympics, in 2014.
The Rio 2016 Olympic Games will close on August 21st. The 1500 meters athletics competitions will take place on the 12th (Nélia Martins) and on the 16th (Augusto Ramos Soares), and XCO cycling, on the 20th.
The three athletes arrived at the Olympic Village, in Rio de Janeiro, on July 29th.
To read the Press Release of the Government's Spokesperson on Timor-Leste participation in the 2016 Rio Olympic Games, click here.