Government builds Reconciliation Monument of Aifu's massacre
Fri. 08 of April of 2016, 18:19h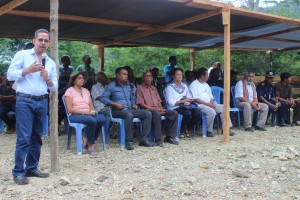 The Government laid the foundation stone of the Reconciliation Monument, marking the Aifu massacre in the Poetete Suco, Administrative Post of Ermera. Representatives of the then political parties, Revolutionary Front for an Independent Timor-Leste (Portuguese acronym, FRETILIN), Timorese Democratic Union (Portuguese acronym, UDT), Timorese Popular Democratic Association (Portuguese acronym, APODETI), Klibur Oan Timor Aswa'in (Indonesian acronym, KOTA) and Labor Party (Portuguese acronym, PT) attended the event and gathered in Ermera, on April 7th,2016.
The Vice Minister of Social Solidarity, Miguel Marques Manetelu, stressed that the initiative to build this monument came from the community. "The government's presence only contributed to support the initiative", said Manetelu. He added that in 1974 and 1975, junior staff, party agents and activists from those five parties started a conflict against each other in that place, causing many deaths among Timorese.
He also stated that the construction of this monument has to be finished, to ensure a place to gather the remains of the heroes, which, meanwhile, were collected by families. He also asked that this site may be used in the future as the Heroes Garden.
Meanwhile, the President of the Organizing Committee of the Aifu monument construction, Ernesto Fernandes "Dudo", recognized that this initiative is intended to promote reconciliation within the community of those who previously considered themselves enemies and killed each other due to political differences.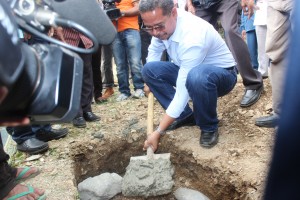 "Now that the war is over, the dead remain. This is why we have taken this initiative to gather these five parties and the communities from 12 Sucos, so that weapons and revenge will no longer be used. Because, in the independence era these attitudes have no justification", explained Dudo.
The President of UDT, Gilman Exposto Santos, stressed that this monument's construction is an act of goodwill and willingness, representing all of those who were victims of that attack.
"Peace must begin with each of us. Peace starts with all of those who are willing to build it in our country. We cannot say that there is peace, when there are people who are still suffering discrimination", argued the President of UDT.
Representatives from the National Parliament, from local authorities, from "lia na'in" (elders) and from the communities, among others, also attended this ceremony.