Timor-Leste at Nelson Mandela's farewell
Mon. 16 of December of 2013, 17:00h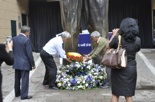 Prime Minister, Kay Rala Xanana Gusmão, traveled to South Africa, from the 10th to the 12th of December, to attend the funeral of former President of South Africa, Nelson Mandela. Xanana Gusmão, was accompanied by a delegation which included, former Prime Minister of Timor-Leste, Mari Alkatiri, and the Vice Minister for Foreign Affairs, Constâncio Pinto.
During his stay, the Prime Minister and his delegation attended the memorial in tribute to Nelson Mandela, at the FNB Stadium (Soccer City) in Soweto, which was attended by aproximate to 90 Heads of State and Government, including President Jacob Zuma from South Africa, President Barack Obama from the United States, and President Dilma Rousseff from Brasil, as well as the family of former President Mandela. In the presence of thousands of emotioned South Africans, the ceremony was a unique moment reminding the person and the legacy of Madiba.
On December 11, the Prime Minister and his delegation went to the Union Building, the  Presidencial headquarters of South Africa, in Pretoria, for a last farewell to Nelson Mandela, where the body of the Nobel Peace Prize was in burning chamber.
Recalling the visit the former President of South Africa had payed to Kay Rala Xanana Gusmão, when he was as a prisoner in Cipinang, in 1997, the South African media conducted a brief interview with the Prime Minister, in the Presidency gardens. The irrefutable request Nelson Mandela had presented to the Indonesian authorities, to visit the current Prime Minister of Timor-Leste was reminded, which at that time, had produced a crucial international momentum toTimor-Leste's struggle for independance.
The delegation from Timor-Leste also paid a special tribute to Nelson Mandela, by visiting the Square with his name, in which there is a statue of the former South African President. On behalf of the people of Timor-Leste, the two Timorese leaders - Prime Minister Kay Rala Xanana Gusmão and former Prime Minister Mari Alkatiri - laid a Wreath at the base of the statue. This was a particularly symbolic moment, in which the spirit of reconciliation, that Timor-Leste praises today, was manifested, by materializing the lesson left by former President Mandela.