Ambassadors of Brazil and Japan in Timor-Leste insist on the reform of UN Security Council
Wed. 30 of Outubro of 2013, 16:04h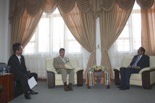 The Ambassador of Brazil in Timor-Leste, Mr. José Amir da Costa Dornelles, along with the Ambassador of Japan in Timor-Leste, Mr. Yoshitaka Hanada, attended the Ministry of Foreign Affairs and Cooperation on the 25th October, to deliver a statement stressing the need to reform the Security Council of the United Nations.
According to the letter, "the difficulties of the Security Council in dealing with international challenges, including current ones, have further highlighted the need for U.N. Security Council reform in order to better reflect the geopolitical realities of the 21st century and make the Council more broadly representative, efficient and transparent and thus to further enhance its effectiveness and the legitimacy and implementation of its decisions".
The Senior Minister and Minister for Foreign Affairs and Cooperation, José Luís Guterres, considers necessary "fundamental reform of the Security Council of the United Nations" and Timor-Leste will support the decisions taken by the G4, an alliance between Germany, Japan, India and Brazil, with the sole purpose of securing a permanent seat on the Council.