Timor-Leste welcomes United Nations Resolution on the Elimination of Chemical Weapons in Syria
Fri. 04 of Outubro of 2013, 17:09h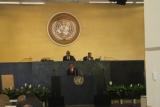 Timor-Leste welcomes the unanimous adoption of the United Nations Security Council Resolution 2118 on the Framework for the Elimination of Chemical Weapons in Syria.
The Democratic Republic of Timor-Leste supports the decision of the Executive Council of the Organization for the Prohibition of Chemical Weapons (OPCW) to establish special procedures for the rapid destruction of the chemical weapons program in Syria and it´s essential and rigorous checking.
The people and the Government of Timor-Leste strongly condemn the use of weapons of mass destruction, particularly chemical and biological weapons, regardless against whom they are used. Moreover, the use of these weapons constitutes a gross violation of international law and is a clear threat to international peace and security.
The people and the Government of Timor-Leste continue to follow with great sadness and dismay the current situation in the Syrian Arab Republic in which thousands of people have died and where millions of its citizens have been forced to seek refuge in neighbouring countries as a result of the constant clashes between government forces and the opposition.
Thus, the people and the Government of Timor-Leste extend their sincere sympathy and solidarity to the Syrian people, and wish for a rapid resumption of peace and prosperity; trusting that the adoption of UNSC Resolution 2118 will facilitate dialogue and help to find a lasting political solution and put an end to the violent conflict in Syria.