Myanmar delegation visits Timor-Leste
Mon. 12 of August of 2013, 10:21h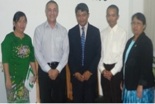 In early August, the Minister of Petroleum and Mineral Resources, Alfredo Pires, was visited, in Dili, by a delegation from the Republic of the Union of Myanmar.
The objective of the visit was to obtain information on Timor-Leste's financial system, as well as the management of mineral resources, namely oil and natural gas.
Minister Alfredo Pires presented the Ministry's policy and programs, having focused on the development of human resources in the oil sector, through youth capacity building.
After the meeting, the Minister declared that "Myanmar intends to learn from Timor Leste's experience. They are particularly interested in understanding our financial system, and the best way to manage their resources. They were surprised with the state of Timor-Leste's development, and will be making an assessment of their visit. "
Besides meeting with the Minister of Petroleum and Mineral Resources, the delegation also met with the Prime Minister, Kay Rala Xanana Gusmão, the Minister of Finance, Emilia Pires, the President of ANP, Gualdino Carmo da Silva, the President of Timor Gap, EP, Francisco da Costa Monteiro, the National Coordinator of TL-EITI, Elda Guterres and civil Society representatives.