MoJ publishes the land maps for the Nain Feto and Vera Cruz sub-districts, Dili district
Mon. 06 of February of 2012, 09:11h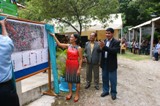 On Tuesday, January 31, the Ministry of Justice launched the Land Map for the of Nain Feto and Vera Cruz sub-districts, Dili district.
The Minister of Justice, Lúcia Lobato, said that "issues related to land are complex and therefore require the law to be resolved. Today, we publish the Land Map of the Dili District, on the day that the National Parliament also discusses the adoption of the Land Law, the Financial Fund, Real Estate and expropriation".
The Director of Land and Property and Cadastral Services in the Dili district, Francisco Borges, highlighted that "the total number of parcels of land in the Dili district is 31,969, not including the Atauro and Metinaro sub-districts. According to our plan, a team will briefly collect data in these sub-districts. The map published includes only the Nain Feto and Vera Cruz sub-districts, with 15 areas including the sucos of Gricenfor, Santa Cruz, Bidau Lecidere, Akadiru-hun, Bemori, Lahane Eastern Mascarenhas and Caicoli.
On this occasion, the Dili district administrator, Jaime Correia, asked local authorities such as sucos and village chiefs to cooperate with the Department of Land and Property in order to provide information that is as accurate as possible.