Timor-Leste won gold, silver and bronze medals in the 2011 Sea Games
Fri. 25 of November of 2011, 11:50h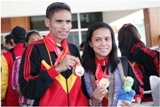 The Timorese athletes who participated in the 26th Sea Games in Indonesia, won gold (1), silver (1) and bronze (6) medals. The medals were won in the modalities of Kempo (gold, silver and 5 bronze) while Taekwondo earned a bronze medal.
The Secretary of State for Youth and Sport, Miguel Manetelo, congratulated the athletes, stressing that even though not all have managed to get medals, "victory is yet to come".
Miguel Manetelo made a point of praising the particular success in the modality of Kempo, taking into account the limitations of resources and preparation, explaining that Timor-Leste, even though it is a new country, made its point with victories in this event.
Julianto Danabere, the athlete who won the gold medal, expressed his gratitude for the support provided by the people reporting that, in his view, the medal does not belong just to the Federation but also to the people.
The athletes who participated in the SEA Games are practitioners of twelve sports: Taekwondo (8) Karate (9), Table Tennis (5) Silat (13) Badminton (5) Boxing (8), Weightlifting (4) Volleyball (7) Athletics (9) and Football (14), Cycling (5) and Kempo (16).