National Parliament approves the State Budget for 2012
Sat. 26 of November of 2011, 00:03h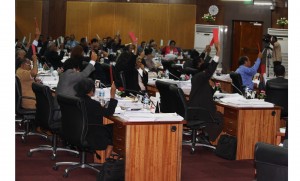 The discussion and vote on Draft Law No. 54/II, on the State Budget (SB) for 2012, ended this Friday, November 25, in the National Parliament, with its final approval.
The diploma proposed by the IV Constitutional Government has undergone changes resulting from the adoption of some amendments tabled by members of Parliament. In total 141 proposals were presented, analyzed during the 13 days of debate and voted in the National Parliament, which followed the public hearings of the responsible ministries in the specialized standing committees.
According to the proposals put forward by Members, expenses decreased by $89 million dollars regarding the proposal presented by the Government. The increase of ten million dollars in debt was approved as an alternative to the removal of more funds from the Petroleum Fund.
National Parliament also awarded USD $1,500,000 (one million five hundred thousand dollars) to UNESCO following the withdrawal of support from some countries to that institution, as a result of the admission of Palestine. With the allocation of this support, Timor-Leste recognizes the important role that UNESCO has played in the development of the country.
The total budget is thus of $1.674,130 billion U.S. dollars.
As dotações orçamentais, por categoria de despesa, são as seguintes:
The budget, by category of expenditure, is as follows:
1 – $140,000,000 (one hundred and forty million U.S. dollars) for Salaries and Wages;
2 – $376,268,000 (three hundred and seventy six million, two hundred and sixty eight thousand U.S. dollars) for Goods and Services.
3 – $199,579,000 (one hundred and ninety nine million, five hundred and seventy nine thousand U.S. dollars) for Public Transfers;
4 – $42,917,000 (forty two million, nine hundred and seventeen thousand U.S. dollars) for Minor Capital;
5 – $915,295,000 (nine hundred and fifteen million, two hundred and ninety five thousand U.S. dollars) in Capital Development.
The Infrastructure Fund was assigned with $761,000,000 (seven hundred and sixty million U.S. dollars), whilst $30,000,000 (thirty million U.S. dollars) were approved for the Human Capital Development Fund.
The Sate Budget Law for 2012 was approved in its final vote, having obtained 39 votes in favor, 20 votes against and 1 abstention.
The final text will now be drafted by the National Parliament's Commission C – Economy, Finance and Anti-Corruption, before being sent to the President for promulgation.