Government of Timor-Leste close relationship with Palestine
Mon. 22 of August of 2011, 11:23h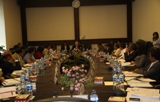 The Government of Timor-Leste held on August 17, in the Council of Ministers meeting room in the Government Palace, a meeting with the Ambassador of Palestine to New Zealand, East Timor, Papua New Guinea and Vanuatu, Izzat Abdulhadi, in order to strengthen relations between the two countries.
The Minister of Foreign Affairs, Zacarias da Costa, highlighted that the Government of Timor-Leste continues to strengthen its relationship with Palestine, a relationship established a long time ago. According to Zacarias da Costa, in this meeting, the Ambassador of Palestine, committed to support Timor-Leste in the health area.
Izzat Abdulhadi reaffirmed the support of Palestine to Timor-Leste, especially regarding the Guido Valadares National Hospital and other hospitals throughout the country, in terms of technical training.