Minister Agio Pereira meets with Parliament and Government officials from the Northern Territory of Australia to discuss strategic partnership
Thu. 16 of November of 2023, 09:46h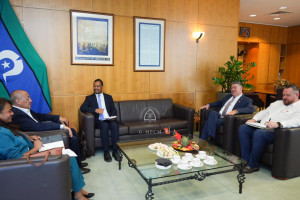 On his return from the Cook Islands, the Minister of the Presidency of the Council of Ministers, Agio Pereira, was on an official visit to Darwin, Australia. On November 16th, 2023, he had two meetings at the Parliament of the Northern Territory (NT) of Australia, with Mark Monaghan, Speaker of the NT Legislative Assembly and Nicole Manison, Deputy Chief Minister of the NT Government, to discuss the ongoing strategic partnership between Timor-Leste and the NT Government. 
The agreement covers various strategic sectors such as labour mobility, trade, business, agriculture, tourism, oil and minerals, among other areas. 
Given that this strategic partnership agreement also acts as an extension for the management of the Pacific-Australia Labour Mobility (PALM) programme, and following the meeting between Minister Agio Pereira and Pat Conroy, Minister for International Development and the Pacific of the Government of Australia, one of the main issues discussed at these meetings was labour mobility and the possibility of increasing the number of Timorese workers participating in this programme. The desire to expand the Labour Mobility Programme to include technical and skilled areas, such as hospitality, was also expressed.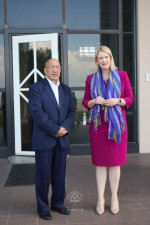 The strengthening of the partnership between the National Parliament of Timor-Leste and the Legislative Assembly of the Northern Territory of Australia was also discussed.