Timor-Leste hosts the first scientific conference on veterinary medicine
Tue. 14 of March of 2023, 15:47h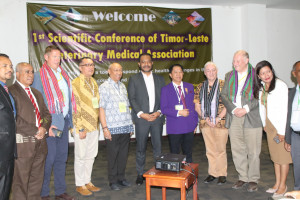 The Minister of the Presidency of the Council of Ministers, Fidelis Manuel Leite Magalhães, representing the Prime Minister, Taur Matan Ruak, participated in the opening of the 1st Scientific Conference of the Timor-Leste Veterinary Medicine Association (TLVMA). The event in the Hotel Timor, in Dili, started today, March 14th, and will continue until March 16th.
The conference, themed "Veterinary medicine as a tool to meet public health challenges in the country and the region," is organised with financial support from the Australian Government Department of Foreign Affairs and Trade (DFAT), Victoria Agriculture-Agro-Bio, Crow Ford Fund, OMNI Animal Health Consultancy, and the Commonwealth of Veterinary Association.
This conference is intended to foster the sharing of scientific knowledge among Timorese veterinarians and other participants, as well as to provide information and raise awareness about the animal health system in Timor-Leste. It also aims to provide national and neighbouring country veterinarians with the opportunity to discuss the current animal health situation in their regions and strengthen the network of veterinary professionals within the country and the Pacific region.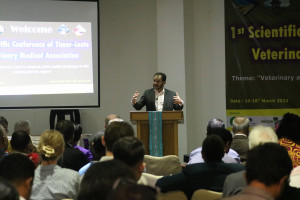 Around 125 people are participating in the event, including delegations of veterinarians from Pacific countries, members of the Timor-Leste Veterinary Medicine Association, representatives from universities, foreign veterinary associations, government entities, and development partners.
Minister Fidelis, in his opening remarks, stressed "the importance of this initiative, which has delegates from several countries in the region, because in a globalised world and with rapid climate change, new diseases are emerging, many of them linked to animal health and transmitted from animals to humans".