Government launches Voter Registration and Database Update for Parliamentary Elections
Wed. 18 of January of 2023, 17:07h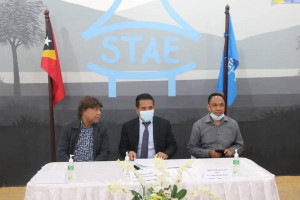 The Minister of State Administration (MAE - Portuguese Acronym), Miguel Pereira de Carvalho, accompanied by the President of the National Elections Commission (CNE - Portuguese Acronym), Alcino Barris, and the Director-General of the Technical Secretariat for Electoral Administration (STAE - Portuguese Acronym), Acilino Manuel Branco, on January 17th, at the STAE headquarters in Caicoli, Dili, officially launched the voter registration process and the database update for the 2023 parliamentary election.
Voter registration and updating of the existing database will take place in all 66 administrative posts throughout the country, including in the new Municipality of Ataúro and the Diaspora.
During the event, cards were also distributed to the focal points of each political party.
The Minister of State Administration told reporters that the "Council of Ministers would analyse a draft Government Resolution concerning the census in the Diaspora. After its approval, the census abroad will begin. It is expected to start at the end of February, with STAE technical teams heading to Australia, Portugal, England, and South Korea, among others.
"Regarding Indonesia and the Philippines, where to date voting has never been held, the Government will have to decide whether or not to include the two countries. After that, it will be necessary to ensure coordination with these countries to hold the election there. A technical team, composed of representatives of STAE and the Ministry of Foreign Affairs and Cooperation, has already travelled to these two countries to carry out the study and survey information on possible voters," the Minister added.
The launching ceremony was also attended by the PNTL Commander of the Dili municipality, leaders of the public administration, central and local services, direct and indirect administration, political party focal points, academics and students, local authorities, and community leaders.