Launching of the Research Report on Civil Society Engagement in Fiscal Policy and Economic Diversification
Thu. 19 of January of 2023, 19:36h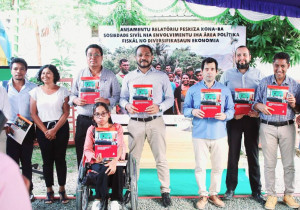 The Minister of the Presidency of the Council of Ministers, Fidelis Manuel Leite Magalhães, participated yesterday, January 19th, 2023, in the launching of the research report on "Civil Society Engagement in Fiscal Policy and Economic Diversification", which took place at Oxfam Timor-Leste's Advocacy and Resource Centre.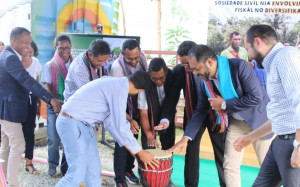 This research, funded and produced by Oxfam Timor-Leste, aimed to analyse and understand the role played by civil society in the area of fiscal policies and economic diversification and to provide data that can be used as an information base for the Government. Civil society organisations, and development partners, strengthen the role of civil society organisations in public policy formulation processes.
In his speech, Minister Fidelis pointed out that "civil society is an important partner in the development process", "playing an important role in providing specific recommendations that support decision-making to solve national problems".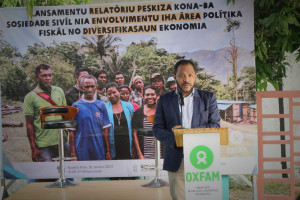 Fidelis Magalhães added that "the participation of civil society and the population, in general, in the political process is a fundamental right protected by our Constitution". He also added that the "Government recognises the value and dignity of each individual and wants civil society organisations to serve as a vehicle for proper representation of their legitimate interests and needs".
He also expressed the Government's "willingness to improve consultation mechanisms", namely with "the setting up of a mechanism to receive recommendations from the population and civil society organisations in the process of producing draft laws before they are approved".
The Minister of the Presidency of the Council of Ministers argued that "in the current environment, the country needs growth-enhancing measures aimed at supporting productive capacities and private sector-led growth in agribusiness, tourism, and digitalisation, among other sectors".
He also advocated the "urgent need for a structural transformation to achieve economic diversification and reduce dependence on oil," for which "it is necessary to unlock growth that guarantees well-paid jobs, a decent life, and substantially improves the prospects of future generations".
The event also included an opening speech by Oxfam's Country Director in Timor-Leste, Fausto Belo Ximenes, and the presentation and discussion of the main results of the research.