Timor-Leste participates in the 29th ASEAN Regional Forum
Fri. 29 of July of 2022, 18:20h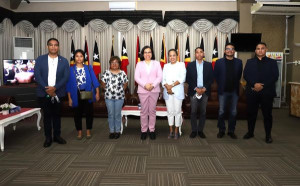 The Minister of Foreign Affairs and Cooperation, Adaljiza Magno, will participate as special guest of the host country, the Kingdom of Cambodia, in the 55th ASEAN Foreign Ministers' Meeting and on the same occasion, she will also participate in the 29th ASEAN Regional Forum, which will be held in Phnom Penh, Kingdom of Cambodia, from July 31st to August 06th 2022.
The main objective of this meeting is to promote a constructive dialogue and consultations with a view to making a significant contribution to efforts to strengthen the peace and security of common and mutual interests in the Asia-Pacific region.
On this occasion, the Timorese Head of Diplomacy will make a speech and will state the position of Timor-Leste on political and security issues in the Asia-Pacific region.
Minister Adaljiza Magno will also take this opportunity to meet with her counterparts from some countries, and to hold bilateral meetings with ASEAN member countries and other countries participating in this ASEAN Regional Forum.
The Minister of Foreign Affairs and Cooperation will be accompanied on this trip by the ASEAN-MNEC Delegation, the Director General for ASEAN Affairs, Milena Rangel, the Director for Policy and Security Affairs, Elisa da Silva, and the Director of Economic Affairs, Aleixo Gusmão.
The delegation left Dili on July 29th, 2022 and will return on  August 08th, 2022.