Timor-Leste participates in the First Meeting of States Parties to the Treaty on the Prohibition of Nuclear Weapons
Thu. 23 of June of 2022, 15:38h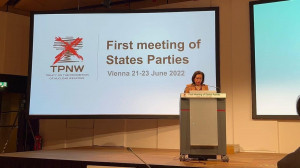 The Minister of Foreign Affairs and Cooperation, Adaljiza Magno, accompanied by the Permanent Representative for the United Nations and other international organisations in Geneva, Lurdes Bessa, participated in the First Meeting of States Parties to the Treaty on the Prohibition of Nuclear Weapons (TPAN), which took place in Vienna, between June 21st and 23rd.
The event brings together representatives of governments, civil society, and observers around the commitment signed by 86 countries, and ratified by 65, to ban nuclear weapons worldwide. 
This meeting is an essential opportunity for states to commit to concrete actions to implement obligations, such as providing assistance to victims of nuclear weapons use and testing, starting to deal with contaminated environments, and universalizing the treaty.
The Treaty was approved in 2017 and entered into force on January 22nd, 2021. Timor-Leste's National Parliament unanimously approved its ratification last April 25th.
In her remarks on the first day of the meeting, Minister Adaljiza Magno said that "Timor-Leste calls on all States to sign, ratify or accede to the treaty" and that "Timor-Leste is ready to participate in any diplomatic efforts or mechanisms for sharing and exchanging views to fulfil its commitments on this matter and to promote regional and global cooperation for risk reduction and nuclear disarmament".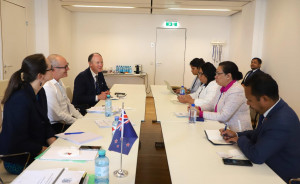 In the margins of the First Meeting of States Parties to the Treaty on the Prohibition of Nuclear Weapons, Minister Adaljiza Magno also participated in bilateral meetings with members of the New Zealand Government and the Prime Minister of Fiji.
In the meeting with the New Zealand government, besides highlighting the importance of stability and nuclear-free areas, the cooperation between Timor-Leste and New Zealand in labour mobility and the need for economic resilience was also discussed.
In the meeting with the Prime Minister of Fiji, the importance of strengthening bilateral cooperation in health, fisheries, climate change and tourism was highlighted. In the multilateralism area, the Leaders discussed the stability in the Indo-Pacific region, Timor-Leste's candidacy to the Human Rights Council for the 2024-2026 term, and also the process of Timor-Leste's accession to ASEAN and WTO.