Handover Ceremony of the CPLP Mobility Agreement Ratification Instrument
Fri. 17 of June of 2022, 16:12h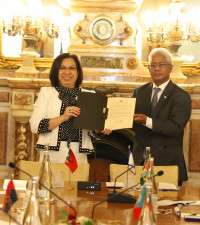 Today, June 17th 2022, Timor-Leste, through the Minister of Foreign Affairs and Cooperation, Adaljiza Magno, handed over, to the CPLP Executive Secretariat, the Ratification Instrument of the Mobility Agreement between the CPLP Member-States.
Adaljiza Magno was welcomed by the CPLP Executive Secretary, Zacarias da Costa, who described the moment as "very special", in a ceremony that was also attended by the Permanent Representatives of the CPLP Member States.
The agreement, signed on July 17th 2021, in Luanda, "is one of the priorities for the Government of Timor-Leste, as it allows the abolition of obstacles to mobility for the people of the community of Portuguese-Speaking Countries", said the Minister.
Timor-Leste will benefit from the implementation of this agreement, as it will create opportunities in different areas, such as tourism, health, education, sports, science and the business economic area, and will contribute to the development and improvement of my country's quality of life".
The Timorese Minister of Foreign Affairs ended her speech by saying that "together with the Community of Portuguese Speaking Countries and united and rooted by our language, culture and history, we hope that together we may achieve the CPLP's objectives".
The CPLP Executive Secretary stated that "almost all countries have already ratified" this agreement. The only countries missing are Equatorial Guinea, which is finishing its internal process, and Angola, which has already completed that process and is now waiting for the handover ceremony date to be set.