Minister of the Presidency of the Council of Ministers meets with United Nations official under the Public Administration Reform program
Tue. 15 of December of 2020, 15:00h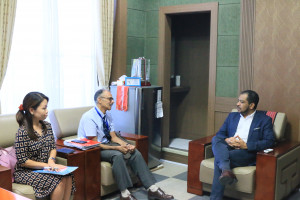 The Minister of the Presidency of the Council of Minister, Fidelis Manuel Leite Magalhães, met, on December 15th 2020, with the United Nations Resident Coordinator in Timor-Leste, Roy Trivedy, in the Government Palace, under the Public Administration Reform program.
The Public Administration Reform program, led by Minister of the Presidency of the Council of Ministers, aims to transform public administration, with  a focus on central power structures. This reform pretends to improve the service delivery processes, strengthen the accountability  and performance incentives, improve human resource management and development,  review public administration roles and structures, and improve administrative services provided to citizens and businesses.
During the meeting, the Minister and the Head of the United Nations in Timor-Leste discussed issues related to cooperation for the strengthening of public administration, for the development and diversification of the economy and for the strengthening of the private sector.
The creation of a Delivery Unit was also discussed, to support the Government in defining and monitoring the priorities and progress achieved and strengthening institutional capacity, in order to improve the public services delivery.