Government delivers proposal for the General State Budget of 2020 to the National Parliament
Tue. 15 of September of 2020, 16:34h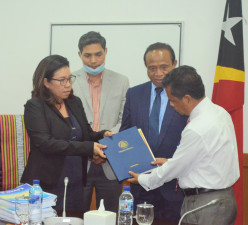 The Government, through the Minister of Parliamentary Affairs and Social Communication, Francisco Martins da Costa Pereira Jerónimo, and the Vice Minister of Finance, Mrs Sara Lobo Brites, submitted today, September 15th, 2020, the 2020 General State Budget (GSB) draft Law to the President of the National Parliament, Aniceto Guterres.
The 2020 GSB draft Law was approved by the Council of Ministers, on August 26th, with a total amount of USD$ 1.497 billion, to cover the Government program needs and national priorities, defined by 8th Constitutional Government, namely in terms of social and economic sectors stabilization, of the ongoing institutional reform process, of expenses related to the response to COVID-19 and of economic recovery measures.
The Specialized Parliamentary Committees will now analyse the draft Law, within a maximum period of one month. During this period, hearings will be held with Government members, public administration officials and civil society representatives. The committees will then send their sectorial reports to the Economy, Finance and Anti-Corruption Committee, so they could prepare the 2020 GSB draft Law report and opinion. After that, the 2020 GSB will be presented in National Parliament Plenary, for general comments (maximum of three days), for specific comments (maximum of ten days) and for final global vote.
Also in preparation is the 2021 GSB, which should be submitted by the Government to the National Parliament on October 15th.