Closing ceremony of the 2019/2020 CNEFP's Training Cycle
Fri. 11 of September of 2020, 15:50h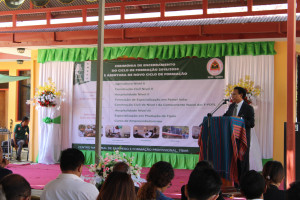 On September 11th, 2020, took place in Tibar, Liquiçá Municipality, the 2019/2020 National Centre for Employment and Vocational Training (CNEFP, Portuguese acronym) Training Cycle Closing Ceremony and Opening of the new Training Cycle.
The ceremony was attended by the Coordinating Minister of Economic Affairs, Joaquim Amaral, the Ministry of Parliamentary Affairs and Social Communication, Francisco Amaral Martins da Costa Pereira Jerónimo, the Minister of Education, Youth and Sports, Armindo Maia, the Secretary of State for Social Communication, Merício Juvinal dos Reis "Akara", the Portuguese Ambassador to Timor-Leste, José Pedro Machado Vieira, as well as other representatives from the ministerial lines, the Special Administrative Region of Oe-cússe Ambeno (RAEOA), the F-FDTL, public and private institutions, industry, and national and international CNEFP partners.
In this ceremony, Level I and II achievement certificates were award to a total of 96 trainees in the areas of Masonry, Carpentry, Plumbing, Electricity, Welding, Solar Panels, Agriculture and Hospitality.
Among these trainees, ten are soldiers from the F-FDTL's Naval component, in a training process that has the support of the Australian Government, through the Technical Military Cooperation DCP (Defence Cooperation Program), and whose objective is the technical training of military personnel that, in the future, will ensure the maintenance of the Navy fleet.
The Coordinating Minister of Economic Affairs, in his speech, congratulated the trainees and encouraged them to join the labour market.
 Joaquim Amaral also pointed out that "CNEFP is the centre that offers training opportunities with better quality in Timor-Leste" and "the areas in which this centre provides training, such as construction, agriculture and hospitality, are those that respond directly to our needs".