President of the Republic declares the State of Emergency from August 6th, 2020, 00:00
Wed. 05 of August of 2020, 22:24h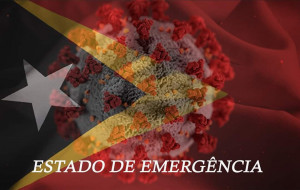 President of the Republic, Francisco Guterres Lú Olo, decreed today, August 5th, 2020, the state of emergency, for 30 days, between August 6th, 00:00 and September 4th, 23:59.
Given the worrying evolution of the epidemiological situation and the proliferation of COVID-19 infection registered cases, both at regional and global levels, and in order to avoid and neutralize the SARS-CoV-2 spreading risks, thus protecting public health and the National Health System response capacity, the Government deliberated at the last meeting of the Council of Ministers, to propose, to the President of the Republic, the State of Emergency Declaration.
After hearing the favourable opinions of the Defence and Security Council, and the State Council, as well as the approval of the National Parliament, the President of the Republic decreed the state of emergency, which he considers indispensable "in view of the world and particularly in neighbouring countries situation evolution.
The Presidential Decree states that it is necessary "to re-establish a set of measures that may prevent the import of SARS-CoV-2 to Timor-Leste and its transmission amongst the population, namely the prohibition of entry of foreigners into national territory, the enforcement of mandatory prophylactic isolation, in certain cases, and the mandatory submission to health control measures for residents in Timor-Leste ".
The Government will now approve the measures to implement the state of emergency declaration.