Vice-Minister of Interior visits border posts in Covalima
Sun. 02 of August of 2020, 12:10h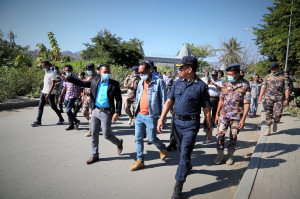 Vice-Minister of the Interior, António Armindo, accompanied by the Border Patrol Unit (UPF) Commander, Superintendent João Sancho Pires and the Municipality of Covalima PNTL's Commander , Superintendent António Maria de Sá, visited, on August 1st, 2020, the UPF post and the PNTL police station in Timor-Leste and Indonesia border area, in Covalima Municipality.
Vice-Minister stated that this visit aimed to enable government ruler and Ministry of Interior's technical procurement team to "directly verify the location of UPF future facilities in this municipality and also to listen the difficulties that UPF members are facing on the ground."
António Armindo stressed that the UPF "plays an important role in controlling the border area, day and night, of people and goods entering illegally in Timor-Leste."
Vice Minister also listened the concerns expressed by those responsible for border control, regarding "traders, whom, despite the establishment of surveillance posts, continue to enter without paying fees".
The posts Commanders also pointed out that they face difficulties related to access to water, radio communications, uniforms, and mainly in terms of the post facilities, that need to be rehabilitated and enlarged, and the construction of new posts, in places already identified.
"Despite the difficulties felt, the UPF does an excellent job in strengthening security 24 hours a day, on the land border, and in cooperation with the Indonesian authorities, to identify and capture those who violate existing laws", underlined the Vice Minister .
The Vice Minister and his delegation made visits to the members of Covalima Bravo Company and visited the UPF posts of Alto Lebos, Fatululik, Fatumea, Belulik Kraik, Aikakar, Walalama, Uamau, Uatumau, Foho Lulik and Lolotoe.
The government ruler also plans to visit, next week, the UPF Charlie Company, in the Special Administrative Region of Oé-Cusse Ambeno (RAEOA).