Infrastructure Fund Board of Directors examines rehabilitation measures for flood-affected areas
Thu. 19 of March of 2020, 18:28h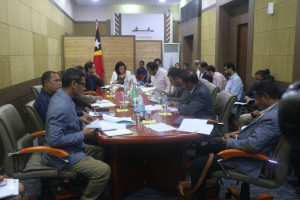 The Technical Working Group tasked with responding to the impacts of the floods that hit the city of Dili last Friday, presented today March 19, 2020, to the Board of Directors of the Infrastructure Fund (CAFI) the detailed list of necessary measures to deal with flood damage. The meeting took place at the Government Palace in Dili.
The planned intervention seeks to restore road mobility, to continue to provide electricity safely and to ensure the repair of damaged water supply systems, and, above all, to carry out urgent work on drainage cleaning, normalization of streams and silt removal and construction of retaining walls that prevent the events of march 13 during this rainy season from occurring again.
During the meeting, the necessary interventions were analyzed in detail and according to the characteristics of each project to be carried out CAFI members evaluated their legal option for the procurement process. All projects have been approved and will be financed under the Infrastructure Fund.
Since Friday, cleanup actions have been conducted in various parts of the city and the Institute of Equipment Management has already begun the rehabilitation works of the most urgent situations.
The Secretary of State for Civil Protection has been providing emergency support to those affected by the floods, including the distribution of essential goods and reception in temporary centers of the displaced.
The Working Group is composed of the General Directorate of Public Works that leads it through its Director General, and also includes the National Development Agency, the General Directorate of Water and Sanitation, the Institute of Equipment Management, I.P. and the National Procurement Commission.
The meeting was attended by the Acting Minister of Planning and Strategic Investment, Fidelis  Manuel Leite Magalhães, the Acting Minister of Finance, Sara Lobo Brites, the Minister of Public Works, Salvador Soares dos Reis Pires, the Minister of Transport and Communications, José  Agustinho da Silva, the Director of the Secretariat of Major Projects (SGP),  Krispim  Fernandes, the Director General of the National Development Authority (ADN), Samuel Marçal, the Director General of the National Procurement Commission, Aniceto do Rosário, the Director General of Water and Sanitation, Gustavo da Cruz, the Director General of Electricity, Arlinda Miranda, the Director  General of Public Works, Rui Guterres, technicians from the Ministry of Finance and legal advisors.