Today marks two years since the signing of the Treaty on Maritime Borders
Fri. 06 of March of 2020, 09:30h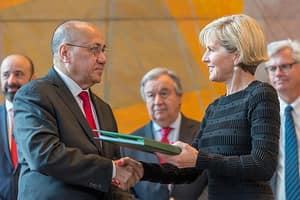 On 6 March 2018, just two years ago, Agio Pereira, then Deputy Minister of the Prime Minister for border delimitation and agent of the conciliation process, and the then Minister of Foreign Affairs of Australia, Julie Bishop signed, in the presence of the Secretary-General of the United Nations, António Guterres, a historic treaty that established the definitive maritime borders between the two countries.
In April 2016, Timor-Leste began the world's first compulsory conciliation under the United Nations Convention on the Law of the Sea (UNCLOS). Through this process, Australia and Timor-Leste reached an agreement on a permanent maritime border and the historic Maritime Border Treaty was signed, establishing, for the first time, permanent maritime borders in the Timor Sea.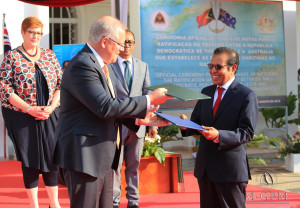 The Treaty automatically entered into force and the previous joint area of oil exploration passed into Timorese jurisdiction, with the exchange of diplomatic notes signed on 30 August 2019 by Prime Minister Taur Matan Ruak and Australian Prime Minister Scott John Morrison.
At the time of the signing of the Treaty, Julie Bishop declared that "the result is a milestone for the parties involved and for UNCLOS and international law. It reinforces our respect and the importance of the rules-based international order in dispute resolution."
On the same occasion Agio Pereira noted that "this treaty is a historic milestone for Timor-Leste and for the friendship between Timor-Leste and Australia. Thanks to the strong commitment of the leadership of both countries in this conciliation process, we have reached an agreement on maritime borders, which is fair and consistent with international law."
The head of Timor-Leste's negotiating team, Kay Rala Xanana Gusmão, said "today [March 6, 2018] it becomes history, when Timor-Leste signs a treaty on definitive maritime borders that establishes, for the first time, a fair border between our two countries, based on international law. We thank the [Conciliation] Commission for their patience, wisdom and trust, and the Australian representatives for their constructive involvement and spirit of cooperation. This moment also offers hope for the peaceful resolution of disputes around the world".
Recently, the Chief Negotiator of the Council for the Final Delimitation of Maritime Borders, during the opening speech of the Workshop of the ASEAN Regional Forum on Dispute Resolution and Law of the Sea, which took place in Dili on 27 and 28 February, stated that "for Timor-Leste, the conquest of permanent maritime borders with Australia represents one of the last steps of our journey towards full sovereignty" and expressed that he believes "that the success of mandatory conciliation can serve as an example of an example for other countries in similar situations".