Timor-Leste attends Ministerial Conference and International Summit on Green Economy
Tue. 22 of Outubro of 2019, 09:28h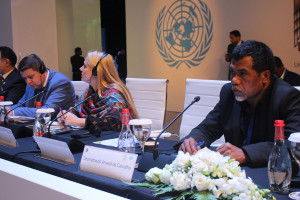 The Government of Timor-Leste, through the Secretary of State for the Environment, Demétrio de Amaral de Carvalho, participated, on October 21 and 22, 2019, at the Ministerial Conference on Green Economy, a high-level global forum held on the sidelines of the World Summit on the Green Economy in Dubai, United Arab Emirates.
The Summit and ministerial conference were organized by the World Green  Economy Organization (WGEO), an institution established in 2016 in Dubai, with the aim of promoting partnerships between the public and private sectors, to foster international cooperation and knowledge sharing for the implementation of the green economy globally and to promote sustainable, inclusive and fair economic development in the creation of employment.
Demétrio de Amaral de Carvalho participated in the Ministerial Conference as speaker on the theme "Creation of a Normative Framework for the Green Economy" and explained that Timor-Leste has a commitment, both in the Strategic Plan for National Development (PEDN) and in the Government's Program, to increase the use of green energy and ensure that 50% of the energy supply in 2030 comes from renewable sources, with several solar panel installation projects since 2011.
The Secretary of State for the Environment also said that "the current economic development has caused in our country a large increase in the production of plastic waste, so we have begun measures to combat the use of plastic, such as the incentive in the sector public and private to plastic replacement with biodegradable options and promotion of plastic reduction awareness campaigns and tree planting - a bag, a tree".
"Timor-Leste has planned the creation of a training centre for the technical development of plastic recycling, this year a small gas production unit has been established from waste" and "we also hope to implement another project of plastic processing into oil", added the Secretary of State.
Political leaders and representatives of the private sector of the environmental sector from several countries on five continents participated in the event. The official opening of the Green Economy Summit was held by the Prime Minister and Vice-President of the United Arab Emirates, Mohammed bin  Rashid  Al  Maktoum  and was attended by the former Secretary-General of the United Nations, Ban Ki-moon, former French President Francois  Hollande, former Mexican President Felipe Calderón and former President of Colombia, Juan Manuel Santos, among others.