Timor-Leste and Australia Sign Diplomatic Notes Exchange for Ratification of the Treaty Establishing the Maritime Borders in the Timor Sea
Fri. 30 of August of 2019, 20:29h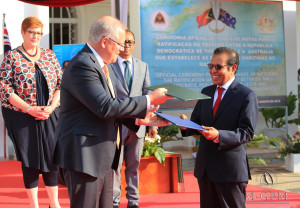 Prime-Minister Taur Matan Ruak and Australia's Prime-Minister, Scott John Morrison, signed today, 30 August 2019, at a ceremony held at the Government Palace in Dili, an exchange of diplomatic notes for the ratification of the Treaty Establishing the Maritime Borders in the Timor Sea, signed by the two countries on March 6, 2018, in New York.
With this exchange of diplomatic notes, the Timor Sea Treaty automatically enters into force and the previous joint oil exploration area passes to Timorese jurisdiction.
This concludes a long process, initiated with mandatory conciliation, in April 2016, under the aegis of the United Nations Convention on the Law of the Sea. Timor-Leste is the first country in the world to use this mechanism provided for in the Convention.
The Treaty on Maritime Borders signed between Timor-Leste and Australia, on 6 March 2018, establishes the respective maritime borders in the Timor Sea, ensuring a median line in the Timor Sea, with only a slight adjustment to obtain an equitable result as required by international law.
The Prime Minister of Timor-Leste said in his speech that this moment marks the beginning of "a new chapter of bilateral relations between the two countries" and that it "demonstrates the strong mutual will to achieve a fair and equitable agreement".
The head of the national government also expressed the conviction "that Australia and Timor-Leste will continue to work together, thus fulfilling, in an increasingly practical and diligent way, the legitimate desires and aspirations of the two peoples".