Government meets with UN Team Leader for Political Affairs and Peacebuilding
Thu. 01 of August of 2019, 16:06h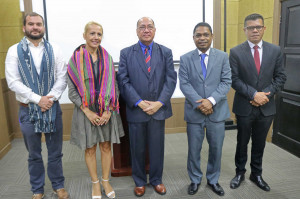 The Minister of State of the Presidency of the Council of Ministers and Minister of Defense in office, Agio Pereira, met with Alma Saliu, head of the United Nations Department of Political Affairs and Peace Building (DPPA) for South and Southeast Asia and the Pacific on August 1, 2019, at the Government Palace in Dili.
This United Nations delegation is in Timor-Leste between 29 July and 9 August to support the preparation of the United Nations Development Cooperation framework for the period 2020 to 2024, an instrument that will serve as the basis for planning and Implementation at national level of the development activities of the United Nations for the next four years.
During the meeting, the Minister of State informed the head of the DPPA about the main challenges and opportunities that the country faces and the Government's priorities for which it might be able to obtain the support of the UN. This is particularly the case in the efforts to achieve the sustainable development goals (SDGs), in particular at the level of SDG 16, on peace, justice and strong institutions. The Minister of State stressed the main challenges of institutional empowerment, the reinforcement of the justice system and the consolidation of democratic institutions.
The DPPA was created in January 2019 and combines the strategic, political and operational responsibilities of the former Department of Political Affairs (DPA) and the peacebuilding responsibilities of the former Peace Building Support Office (PBSO). DPPA works in conflict prevention and resolution, electoral assistance, peace building and peacekeeping. It also provides strategic, political, operational, guidance and support to all special political missions.
The National Director for Defense policy, Martinho Maia Gonçalves and the advisor of the Ministry of Defense for the area of diplomacy, Francisco Lemos Santos, also participated in the meeting.