Timor-Leste Successfully Completes Largest Ever Technical Visit to the ASEAN Secretariat
Thu. 25 of July of 2019, 14:44h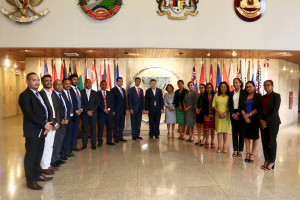 Timor-Leste's largest ever delegation to the ASEAN Secretariat successfully completed an intensive series of meetings on ASEAN's extensive work program in Jakarta, 22-24 July 2019.
The three full days of meetings covered detailed topics on ASEAN institutional framework, structure, legal instruments and agreements across all the three community pillars: ASEAN Economic Community, ASEAN Political-Security Community and ASEAN Socio-Cultural Community. Timor-Leste's delegation also provided updates to ASEAN officials on important work that the country has done to prepare for membership, including a focus on Critical Elements for Accession.
In addition to the technical meetings, the Head of Delegation, Ambassador Jorge Trindade Neves Camões, also paid courtesy visit on the Deputy Secretary-General of ASEAN for Community and Corporate Affairs, H.E. Dr. AKP Mochtan.
The technical visit was the first of its kind since the country had formally expressed its interest in becoming a member of ASEAN in 2011. This was also the largest delegation yet of Timor-Leste's Government officials to visit the ASEAN Secretariat and discuss its work program. The delegation of twenty people – composed of Director-Generals and Focal Points from line-ministries working towards ASEAN accession – was led and coordinated by the Ministry of Foreign Affairs and Cooperation, under the Directorate-General for ASEAN Affairs. With the delegation now back in capital, relevant line-ministries will be briefed on the outcomes and findings from the mission.
Building on the fresh momentum, the Government of Timor-Leste will continue to deliver its program for technical preparations toward fulfilling its national strategic priority of accession to the ASEAN family of nations.
The delegation wishes to extend its gratitude to the ASEAN Secretariat and ASEAN Member States for the warm hospitality shown, and for the extensive program delivered.