Debate with the Prime Minister in the National Parliament
Tue. 02 of July of 2019, 11:05h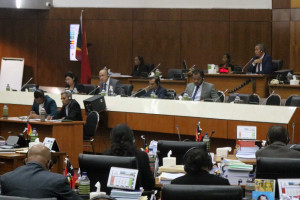 Prime Minister Taur Matan Ruak, accompanied by the Minister of State for the Presidency of the Council of Ministers, Agio Pereira, the Minister for Legislative Reform and Parliamentary Affairs, Fidelis Manuel Leite Magalhães and the acting Minister of Finance, Sara Lobo Brites, participated in the debate in the National Parliament on issues related to the Transparency and Accountability process of the Oe-Cusse-Ambeno Special Administrative Region (RAEOA) and the situation regarding the proceedings initiated by Lighthouse against the Timorese State.
Regarding the process of transparency and accountability of RAEOA, the Prime Minister and the acting Minister for Finance clarified the MPs on the difficulties of implementing the Free Balance provisioning system, used by the Government in the other Municipalities and in the region of Oe-Cusse due to technical issues related to the differences in the regime of supply that regulate the RAEOA and the other Municipal Authorities. The Prime Minister also mentioned that the Government and Regional Authority are in coordination to resolve this situation and it is expected that from the next General State Budget onwards the RAEOA may already be integrated into the "Free Balance" system, which will allow improved procurement processes and procedures in the region. Regarding the differences in the amounts indicated in the Report of the Accounts Tribunal, the Prime Minister stated that he had already met with the President of the RAEOA Authority, in order to clarify the situation.
The members of Government also explained the situation of the passenger boat (Haksolok), which due to legal problems with the company Atlantic Eagle Shipbuilding, has had its construction is suspended. The Prime Minister and the Minister of State explained that the construction company is in the process of insolvency, with 30% remaining to complete the construction of the ferry. The Minister of State also explained that it is for RAEOA, as the shipowner responsible for the project, to decide if it intends to advance to the completion of the ship and the necessary works on the Ataúro and Oe-Cusse pontoons, investing between 12 and 14 million dollars, or give up its construction and lose the money already paid, worth about 16 million US dollars.
The members of the National Parliament also heard the clarification from the Minister of State of the Presidency of the Council of Ministers regarding the complaint of an Australian company, Lighthouse, against the Government of Timor-Leste in a dispute concerning events in Timor-Leste in 2010 and 2011. These relate to an alleged contract for the supply of fuel and generators in Timor-Leste, where the Government of Timor-Leste believes that no binding contract was entered into.
On 22 December 2017, the Arbitration Tribunal of the International Center for Settlement of Investment Disputes (ICSID) confirmed that it had no jurisdiction to decide on the action brought by Lighthouse against Timor-Leste. The process was terminated, and held Lighthouse responsible for the total costs of the proceeding.