Inauguration and Promotion of the Biogas System
Fri. 28 of June of 2019, 17:17h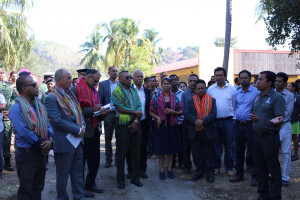 The Secretary of State for Vocational Training and Employment, Julião da Silva, participated in the inauguration and presentation ceremony of the biogas system and the closing of the Level 1 General Construction Training course, directed at F-FDTL on June 26, 2019, at the National Center for Employment and Professional Training (CNEFP), in Tibar, Liquiça.
With the increasing negative impacts of climate change, the implementation and development of renewable energy is crucial. The biogas system, now inaugurated, was built by CNEFP technicians under the guidance of the biogas specialist, Aires Eddie Almeida, with the support of the United Nations Development Program (UNDP) and aims to become a demonstration and training center for technicians who will want to repeat the system throughout the country.
The system transforms organic waste such as cattle and pig manure, food waste, green or dried leaves, paper and other waste into gas that will be used to power the CNEFP canteen stoves, where approximately 350 meals are prepared for its employees, trainers and trainees, allowing to reduce by half the expenses with butane gas. The nine CNEFP technicians involved in the construction and maintenance of the biogas system received certificates of appreciation for their service provision and certification of technical skills acquired.
At the same time, the closing ceremony of the General Construction training, Level 1, was held with the participation of 24 F-FDTL graduates (14 of the Naval Component and 10 of the Terrestrial Component). The training of the Naval Component was supported by the Australian Defense Cooperation Program (DCP), with the objective of technically training the military, so that in the future they could ensure the maintenance of the Navy fleet. This training action covered the areas of plumbing, carpentry, electricity, welding and masonry. The graduates of the Naval Component also benefited from the training in installation and maintenance of air conditioning equipment.
In addition to the Secretary of State, the ceremony was also attended by the Portuguese Ambassador, José Pedro Machado Vieira, the United Nations Resident Coordinator in Timor-Leste, Roy Trivedy, Lieutenant Colonel "Haksolok", in representation of the F-FDTL Chief of Staff and other representatives of government ministries, development partners and diplomatic corps.