Meeting of the Board of Directors of the Infrastructure Fund
Fri. 10 of May of 2019, 16:27h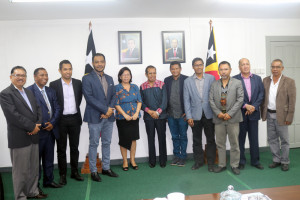 Prime Minister Taur Matan Ruak addressed today, May 10, the extraordinary meeting of the Infrastructure Fund's Board of Directors (CAFI) at the Government Palace in Dili to assess the progress of projects under the Infrastructure Fund (IF) of the current year.
During the meeting, the Prime Minister and members of CAFI analyzed with the National Development Agency the status and results of the data verification process of the 143 IF projects. Of these 143 projects, 59 have already been paid by the Government of the Democratic Republic of Timor-Leste.
CAFI is composed of its President, the Minister of Planning and Strategic Investment Interim, Agio Pereira and the other members of the Board of Directors, the Minister of Finance Interim, Sara Lobo Brites, the Minister of Public Works, Salvador Soares dos Reis Pires and the Minister of Transport and Communications, José Agustinho da Silva.
In addition to the Prime Minister and members of CAFI, the Director of the Secretariat for Major Projects (SGP), Krispim Fernandes, the Director General of the National Development Authority (ADN), Samuel Marçal, the Director General the National Procurement Commission, Aniceto do Rosário and the President of TimorGap, Francisco Monteiro.