g7 + begins process to become UN permanent observer
Thu. 25 of April of 2019, 15:44h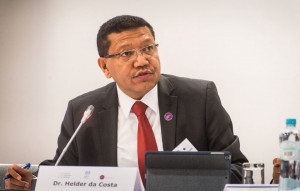 The g7 + has started the registration process to obtain the permanent observer status at the United Nations (UN) in order to express the aspirations of the twenty countries that make up the intergovernmental organization, within the framework of the UN General Assembly.
The intergovernmental organization was officially established in 2010 in Dili, Timor-Leste, following a Organization for Economic Co-operation and Development (OECD) conference, where the concerns and challenges shared by the Fragile States were discussed. At the time the Dili Declaration was approved, affirming the need for these States to play a stronger and more active role in the assistance provided to them by development partners and also expresses the desire to design a long-term vision adapted to their realities.
The g7 +, originally founded by seven countries, now includes 20 countries in Africa, Asia-Pacific, the Caribbean and the Middle East: Afghanistan, Burundi, Central African Republic, Chad, Comoros, Côte d'Ivoire, Democratic Republic of Congo, Guinea, Guinea Bissau, Haiti, Liberia, Papua New Guinea, Sao Tome and Principe, Sierra Leone, Solomon Islands, Somalia, South Sudan, Timor-Leste, Togo and Yemen. The total population of the nations that make up the g7 + is 1.5 billion people.
With the status of permanent observer, the g7 + will have a direct voice in the United Nations system and will contribute directly to the work of the General Assembly, while reflecting the crucial role that the g7 + member states intend to play in the implementation of the Sustainable Development Goals (SDGs).
The G7 + is currently a strategic partner of the various UN agencies, the World Bank, the International Monetary Fund, various regional organizations and has had a European delegation in Lisbon since June 2018.
The Delegation in Europe of the g7 + Secretariat in the city of Lisbon serves as the basis for the meetings of the intergovernmental organization on the European continent and is intended to increase the international visibility of g7 + as well as strengthen its relationship with the international community in Europe.