Timor-Leste and Australia sign new memorandum of understanding for the Pacific Labor Program
Wed. 03 of April of 2019, 17:13h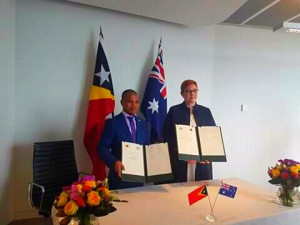 The Government of Timor-Leste, through the Secretary of State for Vocational Training and Employment, Julião da Silva, signed a new Memorandum of Understanding with the Government of Australia for the PLS (Pacific Labor Scheme). This program will enable over a thousand Timorese workers to work for three years in rural Australia and fill the labor shortages in these regions. The new memorandum was signed on April 3, 2019, at the premises of the Secretary of State.
In addition to Timor-Leste, Fiji, Kiribati, Nauru, Papua New Guinea, Samoa, Solomon Islands, Tonga, Tuvalu and Vanuatu participate in this program. PLS complements the current Seasonal Workers Program which, since 2012, has provided more than 33,000 seasonal jobs to Pacific and Timorese workers.
The Pacific Labor Program enables both Timorese citizens to acquire work knowledge and experience and, on the other hand, allows Australian employers to gain access to reliable labor.
At the meeting of March 20, the Council of Ministers granted full powers to the Secretary of State for Vocational Training and Employment to sign this memorandum of understanding.
Julião da Silva, in his speech, called on young people "to attend training centers to raise their skills and knowledge so that they can compete in this job market."