Tibar Port receives award for Best Project of the Year of 2018 in the Asia-Pacific region
Wed. 10 of April of 2019, 17:00h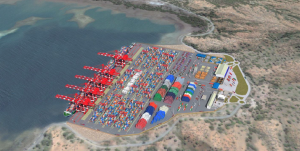 IJ Global announced on March 28, 2019 in Singapore the award to Tibar Port SA of the Best Public Private Partnership Project (PPP) in 2018 in the Asia-Pacific region. IJ Global is a leading global infrastructure and project finance organization that annually rewards the best projects in the international infrastructure and energy sectors, recognizing the organizations that play central roles in these businesses.
The Tibar Port project was selected from a large number of PPP projects carried out throughout the Asia-Pacific region and was considered the best PPP project in the region in 2018.
This international recognition for the first PPP implemented in Timor-Leste is a great achievement for the Government and a real boost for the next projects in pipeline. It also demonstrates that the path made for the development of PPP projects is paying off and the objetives are being achieved.
Prior to the implementation of the project, the Government have created a strong legal and institutional framework which provided strong grounds for the implementation of PPP projects in the country. One of the key elements was the establishment of a Public-Private Partnership and Loans Unit (PPPLU) under the Ministry of Finance, staffed with highly qualified consultants. This Technical Unit is responsible for developing the policy and adequate legislation and regulation before initiating any PPP, but also for identifying potential PPP projects, studying effectively their viability and tendering them competitively and transparently to select an adequate private partner in coordination with other relevant authorities.
The Tibar Port, to be built 10 kilometers west of Dili in Tibar Bay, Liquiça municipality, is a priority infrastructure identified in the Timor-Leste Strategic Development Plan 2011-2030. The construction of this international-level terminal began on August 30, 2018 and is being carried out through Timor Port SA in a Public-Private Partnership (PPP) between the Bolloré consortium and the Government of Timor-Leste, which will be able to receive more than 870 000 containers annually.
The project currently has about 114 Timorese workers hired directly and about 43 subcontracted local companies. It is estimated that more than 1,000 jobs will be created during construction, of which the vast majority will be for national citizens.
The Government expects the Tibar Port when becomes operational will increase trade especially with neighbouring countries. The new port will achieve greater regional and market integration that will contribute to reduce the cost of imports, bringing down the cost of essential imported goods, and make goods move faster and more efficient, which in turn will develop markets and allow for greater economic diversification and that the success of this project will serve as a good example for future PPP projects in the country.