Ceremony to launch the construction of the Port of Tibar
Thu. 30 of August of 2018, 18:29h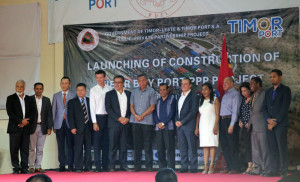 The launching ceremony marking the beginning of construction of the Port of Tibar took place on August 30, the day of the 19th anniversary of the Popular Consultation that determined the independence of Timor-Leste and constituted a fundamental turning point in the history of the Nation.
The construction of this international terminal will be carried out 10 kilometers west of Dili, in the Bay of Tibar in the municipality of Liquiça, through Timor Port SA, a public-private partnership (PPP) between the Bolloré Consortium and the Government of Timor-Leste.
Prime Minister Taur Matan Ruak said that "the development of the port infrastructure is considered vital for the future of Timor-Leste" and argued that "ports are not only a place of movement of goods or materials, but also a pole of beneficial development for business and job creation, capable of boosting the growth of the communities where they are inserted". He added that the port of Tibar will provide "the necessary conditions for Timor-Leste to become in the future a regional interface (HUB) for the transport of goods and container traffic, thus generating additional revenues for the country".
Taur Matan Ruak also said that "with the implementation of the Port Project, through a Public Private Partnership (PPP), which represents the largest investment to date in public infrastructures in the country," the Government gives a signal to other investors that Timor-Leste is an attractive place to do business".
The Prime Minister said he was confident "that the project will progress with environmental impacts duly protected" thanks to "the implementation of the major mitigation measures chosen for this project in accordance with best environmental practices and the norms of the International Financial Corporation (IFC) or the World Bank" and to the decision to "award the project to the Bolloré Group, one of the most prestigious port operators in the world".
Phillip Jullien and Cyrill Dumon of the Bolloré group said that the construction of the Port of Tibar, "the largest project in Asia," will "reduce the cost of imports and facilitate exports" adding that this day marks "the beginning of a new economic era for Timor-Leste, which will benefit all East Timorese".
Kong Qi of China Harbor, the company responsible for the construction of the project, has committed to create more than 500 jobs during the next three years of port construction.
The ceremony was attended by several members of the Government, the President of Parliament, Arão Noé Amaral, the former President of the Republic, Xanana Gusmão, diplomatic corps, development partners and several national and international businessmen.
To read the speech (Portuguese version) of the Prime Minister, Taur Matan Ruak, click here