Government meets with the national media
Thu. 05 of July of 2018, 10:08h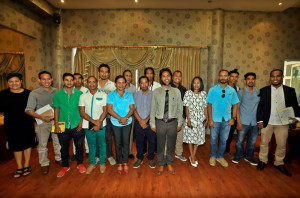 The Minister of Legislative Reform and Parliamentary Affairs, Fidelis Leite Magalhães, accompanied by the Secretary of State for Social Communication, Merício Juvenal dos Reis "Akara", held a first meeting with the heads of the national media organizations in Dili, on Thursday, July 5, 2018.
During the meeting, Government officials in charge of media affairs presented the main commitments of the VIII Government and the main priorities in the media sector to journalists and heard the expectations, challenges and difficulties expressed by the directors and editors of the national media organizations.
Fidelis Magalhães and Merício "Akara" stressed the importance of the media organizations as independent bodies - whose mission is to inform the population and promote the national public debate – and also express the desire to improve communication, collaboration and cooperation between the Government and the media, contributing to the development of the nation through social communication.
During the meeting, the Secretary of State for Social Communication appealed to journalists to maintain their journalistic ethics and independence and presented the government's priorities for strengthening the national media, including training journalists from the private and public sectors, creating measures to give the population of rural areas greater access to the media, improve the conditions of RTTL, the Community Radio Center, and transform the Tatoli News Agency into a reference source of news both nationally and internationally.
Merício Akara also mentioned the commitment of the VIII Government to reinforce the current programs and to create solutions to the difficulties experienced in the ​​social communication sector at the organizational, operational, technical and administrative levels, so that the national media can promote quality information for the entire population.