Swearing in of the VIII Constitutional Government
Fri. 22 of June of 2018, 14:57h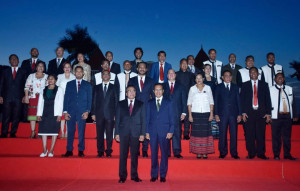 The President of the Republic, Francisco Guterres Lú Olo, swore in the Eight Constitutional Government, led by Prime Minister Taur Matan Ruak, at a ceremony held on June 22, 2018, in the Noble Hall of the Presidential Palace of Lahane, Dili.
After the swearing in of the Government members, Prime Minister Taur Matan Ruak said in his speech that the Eight Government begins its mission "at a decisive moment for the development, modernity and progress of our young Democracy, in the fulfillment of the great objectives of sustainable development and the great National design of transforming 'Timor-Leste, into a Rich, Strong and Safe Country!'".
The Prime Minister reaffirmed that the Government is confident "in its mobilizing project and in the orientation of its strategic vision, duly expressed in the quality, integrity and commitment of the Governing structure that today is sworn in" and that "intends to be the engine of this change and transformation of society".
Taur Matan Ruak also said that "the development of human capital, the creation of basic infrastructures, the diversification and expansion of economic sectors, and the consolidation of good practices of management, transparency and accountability" are areas considered fundamental for Eight Constitutional Government.
The President of the Republic guaranteed the "necessary institutional collaboration with the Government and other State institutions, in promoting values ​​and practices of good governance, contributing to the success of the process of national social and economic development."
Francisco Guterres Lú Olo also congratulated the "voters and the whole of society who through their vote allowed the strengthening of democracy, peace and stability, promoting the name of Timor-Leste in the region, ASEAN and around the world."
At the inauguration ceremony were present personalities from Timor-Leste and the international community, representatives of the diplomatic corps and non-governmental organizations, among other distinguished guests.
To read the speech of the Prime Minister click here
To see structure of the VIII Constitutional Government click here