Government signs contract for fiber optic supply in its Public Administration
Tue. 20 of March of 2018, 10:32h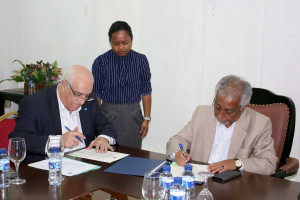 On March 20th, at the Government Palace in Díli, the Prime Minister, Marí Alkatiri, signed a contract with Timor Telecom (TT) for the supply, installation and configuration of the internal fiber optic network.
The connection of the fiber optic network will be done through the Timor-Leste Electricity Substations (EDTL) into the Municipal Administration buildings of the 12 municipalities, being linked to the Prime Minister's Office Data Center, thus allowing the Government to create its own private network.
This infrastructure will also enable the launching, soon, of the e-Government, bringing citizens closer to Public Administration, through the development of electronic governance and the administrative modernization of public services.
The domestic fiber optic network will also allow interconnection with the submarine cable that is expected to reach Timor-Leste, according to the agreement signed on March 19th between the Government and the companies responsible for the project.
The head of TT, Captain Amaro, stressed "the project's design and development was carried out by qualified TT Timorese staff, which demonstrates the competence and qualification of the Timorese staff".
The Prime Minister highlighted the "importance of the internal fiber optic network for Public Administration, opening the way to e-Government, which will mean a more efficient, effective and, above all, more transparent Government!"
Also attending this ceremony were the Deputy Prime Minister for Governance Affairs, José Reis, the Vice Minister for Development of Transport and Communications, Inácio Moreira and representatives of the telecommunications sector.