Government met with Teacher Council of the 28 of November General Secondary School
Mon. 05 of February of 2018, 17:22h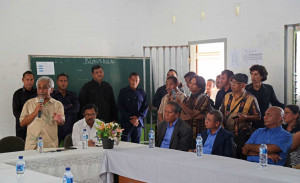 Today, February 5th, the Prime Minister Marí Alkatiri traveled to the 28 of November General Secondary School in Becora, Díli, accompanied by the Deputy Minister of Education and Culture, José Neves, and Directors of the Ministry of Education and Culture.
During the meeting between the Teacher Council, the members of the Government and the Directors, Marcelino Caldas, Coordinator of the Teacher Council, explained the reasons for the school teachers' discontent, stating that "since its conversion to technical vocational education in 2016, they do not feel satisfied with the general secondary school being closed", demanding the continuation of the general secondary education.
The Prime Minister assured the teachers that he will seek a solution that meets everyone's expectations, stating that "it is possible to find a solution, but for this purpose the statutes for the 28 of November General Secondary School need to be created, and these have to be clear so that the school can be recognized", adding that "it is necessary for the rehabilitation works to move faster. "
Marí Alkatiri also highlighted that "Timor needs professionals at all levels, and not only at the university level, otherwise in the future there won't be work for everyone. It is therefore necessary to develop vocational-technical education, which does not mean that general secondary education will be finished. The both educational systems must evolve together".
Responding to statements by Marcelino de Caldas, that said there are public schools charging tuition fees to students, the Prime Minister explained that public education is obligatorily free and guaranteed that the Ministry of Education and Culture will open an investigation to look into this situation, saying that the Seventh Constitutional Government Program aims to guarantee "an inclusive education in which all children have equal rights, where rich and the poor have equal rights, where women and men have equal rights and also that people with disabilities have access to quality education."