Speech by Minister of State Ramos-Horta at the celebration of the National Day of China, in Dili
Fri. 29 of September of 2017, 17:26h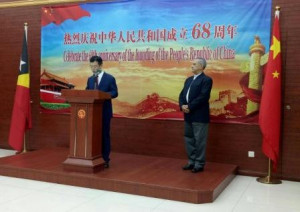 The Minister of State and National Security Adviser, José Ramos-Horta, represented the Prime Minister, Marí Alkatiri, on China's National Day celebration, which is usually held on the 1st of October, but which was celebrated on the 29th September in Dili, at the Chinese embassy.
José Ramos-Horta began by contextualizing the on-going formation of the Seventh Constitutional Government and expressing the Government's intention to strengthen its relations with Timor-Leste's partners and friends.He thanked the Government of the People's Republic of China for the"steadfastsupport you have provided throughout the years, support in many fields, from much needed infrastructure offices to human capacity development, in addition to grants and technical assistance to rural development".
The Minister of State and Counsellor for National Security stressed that this is not a one-way relationship, recalling that "infrastructure projects budgeted at hundreds of millions of dollars and entirely financed by Timor-Leste were awarded to Chinese companies and hundreds of Chinese skilled and semi skilled workers dwell alongside Timorese workers.
The Minister of State José Ramos-Horta assured that the work of creating infrastructures all over the country "will continue under Dr. Alkatiri's leadership who is assembling the first class of advisers drawn from the previous Government and others to review all projects, continue those that are sound, finesse those that require adjustments, launch new ones".
José Ramos-Horta also pointed out that "Timor-Leste and China share the view on the importance of pursuing and enhancing peace, stability and the global order; cooperation over confrontation on addressing regional and global issues; most importantly, two countries pursue partnership and cooperation on the basis of mutual trust, respect, international best practices, principles, rules and regulation".
China's National Day celebrates the 68th anniversary of the founding of the People's Republic of China.
To see the speech of the Minister of State and Adviser for National Security, José Ramos-Horta, click here.