Seventh Constitutional Government is sworn in
Fri. 15 of September of 2017, 17:35h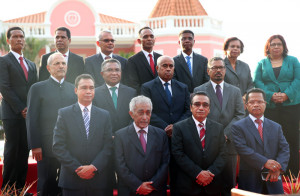 The Prime Minister, Marí Alkatiri and eleven members of the Seventh Constitutional Government were sworn in by the President of the Republic, Francisco Guterres Lú Olo on September 15th, at the Presidential Palace in Lahane, Dili.
The Prime Minister also assumes the lead of the Ministry for Development and Institutional Reform.
Also sworn in were: the Minister of State and Counselor for National Security, José Ramos-Horta, the Minister of State and Minister of Health, Rui Maria de Araújo, the Minister of State and Minister for Agriculture and Fisheries, Estanislau da Silva, the Minister in the Presidency of the Council of Ministers, Adriano do Nascimento, the Minister for Foreign Affairs and Cooperation, Aurélio Guterres, the Minister of State Administration, Valentim Ximenes, the Minister for Planning and Finance, Rui Gomes, the Minister for Defence and Security, Agostinho Somotxo, the Minister for Commerce and Industry, António Conceição, the Minister of Social Solidarity, Florentina Smith, and the Vice Minister for Education and Culture, Lurdes Bessa.
To read the speech of the Prime-Minister Marí Alkatiri, click here.