Government supports investment projects in Manufahi Municipality
Mon. 14 of August of 2017, 10:16h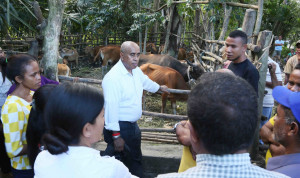 On the 10th August, the Minister of State, Coordinator of Economic Affairs (MSCEA) and Minister of Agriculture and Fisheries (MAF), Estanislau Aleixo da Silva, visited the villages of Clacuc and Fatu Cahe, in the Fatuberliu administrative post of Manufahi Municipality, to check on how three local entrepreneurship projects are proceeding. The projects are in the areas of  aquaculture, agriculture, and baked goods.
The aquaculture project will see the construction of two tanks for Tilapia fish farming on a 20-hectare site granted by local communities,.
Accompanied by the General Director for Fisheries, Acácio Guterres, and the National Veterinary Director, Joanita Bendita da Costa, Minister Estanislau da Silva thanked the villagers of Clacuc and Fatu Cahe for granting this land, and informed "a budget has already been allocated to purchase material to start construction."
In the Clacuc village, the Minister of Agriculture and Fisheries also met with the Jerasaun Foun Nalolo Tiro (JERFONT) and the Talioan groups. The first group is involved in cattle farming, while the second group works in a bakery. Both received government support (public subsidy) through the MSCEA office.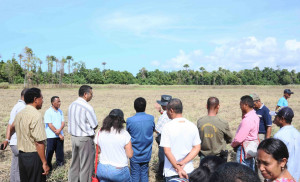 Estanislau da Silva said he was "proud of the work done by these two youth groups, to improve the family economy and reduce unemployment. Despite having a small budget, they managed it very well. "
The minister also reminded these youths that if they want to expand their business, the BNCTL offers the possibility of access to credit, with interest at 6%, and advised  young entrepreneurs to look further into this facility.