Government launches Timor-Maubere "Music of the Resistance" CD
Tue. 08 of August of 2017, 17:39h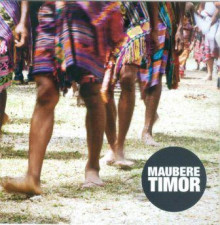 Timor-Maubere "Music of the Resistance" is an album with 12 songs sung by Veterans, largely written by current leaders and prominent figures in the history of the Resistance. It was presented on the 4th of August, at the Government Palace, by the Prime Minister Rui Maia de Araújo and Ministers of State Agio Pereira and Estanislau da Silva.
The performers, composed of seven former guerrilla fighters, played four songs at this event: "Maubere Timor", with lyrics by Kay Rala Xanana Gusmão (Minister of Planning and Strategic Investment) and music by Berliku, "President Nicolau Lobato", Written by Mari Alkatiri (President of the Special Economic Zone for Social Market Economy - ZEESM) and music by Estanislau da Silva (Minister of State, Economic Affairs Coordinator and Minister of Agriculture and Fisheries), "3rd of March", by Kay Rala Xanana Gusmão, and "Buka tuir", by Antoninho Baptista Alves "Hamar" (Director of the Timorese Resistance Archive & Museum).
Member of Parliament and President of the Association of Combat Veterans in the Fight for National Liberation (ACVFNL), David Ximenes, gave a meaningful speech on the times of the Resistance and the suffering of the guerrillas during the struggle for the restoration of independence.
In an unprecedented and improvised moment, reflecting the emotion experienced in this event, the audience, composed mainly of former combatants and Government Palace officials, were gifted with the spontaneous performance of the two Ministers of State, who took the stage and recalled old songs from their fightingdays.
This CD, which can be purchased at ACVFLN, was an initiative of the Office of the Prime Minister, with the aim of honouring the Timorese Resistance by those who lived it themselves.