Government inaugurates historic Wasa-Diga shelter
Thu. 13 of July of 2017, 16:49h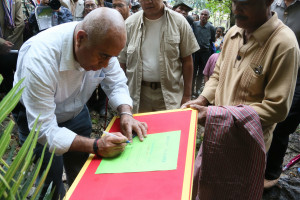 The Minister of State, Coordinator of Economic Affairs and Minister of Agriculture and Fisheries Estanislau Aleixo da Silva, inaugurated the historic Wasa-Diga shelter in the hamlet of Loi-Huno, Viqueque Municipality, on July 12th.
This historic site was used by the Resistance during the Indonesian occupation and operated intermittently between 1989 and 1996, following guerrilla tactics of "concentration and dispersion". Taur Matan Ruak, serving at the time as the Vice Chief of Staff of Falintil, and Francisco Guterres Lú Olo, the then Secretary of the Fretilin Steering Committee, both took shelter at this place. Middle management personnel of the clandestine front, such as the Political Commissioner, Falur Rate Laek, and Political Commissioners Lintil, Political Aid, and Trix, Unit Commander, among others, were also stationed there.
At the inauguration the Minister of State spoke of the need "to preserve the State's heritage, to protect places such as this one and create conditions where tourists may visit places like Wasa-Diga."
During the ceremony, the official name of the shelter was changed, and from now on it  will be called "Abrigu ba Dame" or the "Shelter for Peace"
The veteran group Caixa Bua Malos was responsible for the building and access improvement to the shelter. The group applied for public funds in 2016, submitting its proposal to the Prime Minister's Office, who then forwarded it to the Office of the Minister of State. The proposal was accepted and the group received financial support totalling $19,538 US.
The Chief of Staff of the Defence Forces of Timor-Leste (F-FDTL), Colonel Falur Rate Laek, the Liaison Officer for Veterans Affairs within the Prime Minister's Office, Inês Almeida, and other invited guests also attended this ceremony.