Prime Minister presents Timor-Leste News Agency
Fri. 29 of July of 2016, 17:59h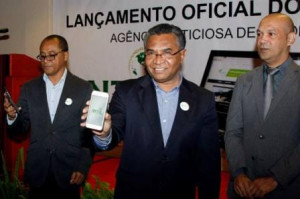 The Prime Minister Rui Maria de Araujo launched the Timor-Leste News Agency (ANTIL) in Dili, on July 27th, 2016.
In the ceremony, the Prime Minister conveyed to the public the address for access the ANTIL news information portal (www.antil.tl) which is also available through mobile web applications for viewing on smart phones.
The Head of Government noted that building the country takes small steps, but always looking steadily into the future, adding that this can be a major step in the media development in Timor-Leste. The Prime Minister highlighted that this step reflects responsibility for the citizen's right to information.
Rui Maria de Araújo also noted that the challenge of impartiality exists even when there are interests that may be affected. Therefore, he asked ANTIL team to defend the Journalism Ethics Code and principles, and to not be frightened by the pressures that might be put on them.
In his speech, the Secretary of State for Social Communication, Nélio Isaac Sarmento said that the main objective of ANTIL is not to compete with other media representatives, but to complement information in our society, based on data and facts, and therefore to be a reference to media bodies and professionals, increasing their knowledge.
To read the Press Release from the Government Spokesperson, click here.